Heat Pump Water Heaters for WA, OR, Northern & Southern CA
HEAT PUMP WATER HEATERS SHRINK EMISSIONS AND YOUR ENERGY BILLS!
Most homeowners are familiar with heat pump technology as it applies to heating and cooling a home. Heat pump water heaters use the same technology to heat water, which can result in an efficiency that's two to three times greater than that of a standard electric water heater.
Simultaneously saving money and reducing your carbon footprint is a magical feeling, but the science behind these water heaters is anything but sleight of hand. Heat pump hot water heaters use evaporation and compression technology to remove heat from the ambient air and transfer it to heat the water. This is a sharp contrast to other technologies that use gas burners or electric heating coils, which are brute force by comparison and not nearly as efficient.
Call (866) 606-0326
for fast service
If you're looking for an energy-efficient, environmentally-friendly replacement for your old water heater, our experts can help you find the best solution. Our certified installers specialize in all makes and models, including electric heat pump water heaters.
Get in touch with us today to learn more about our top-tier selection of heat pump water heaters! We've been serving our local communities since 1986, including the following areas:
Bothell, WA
Auburn, WA
Gardena, CA
Richmond, CA
Troutdale, OR
Seattle, WA
Portland, OR
Los Angeles, CA
What Is a Heat Pump Water Heater?
Heat pump water heaters work much like a refrigerator in reverse. As you may know, refrigerators have a compressor that pulls heat from inside the refrigerator and transfers it outside, sending it into the kitchen. In contrast, hybrid heat pump water heaters use a compressor to collect heat from the surrounding air. From here, the heat is moved to the storage tank so that it can be used to warm up the water.
There are many benefits to installing these green water heaters. For example, many utility companies offer incentives that can dramatically bring down the cost of installing a heat pump water heater.
Are Heat Pump Water Heaters Safe?
As a homeowner, you want to ensure that the water heater you're installing is not only effective — but also safe. The excellent news is that heat pump hot water heaters are just as safe as other types of hot water heaters on the market, if not more so. Since these water heaters don't generate heat, you don't have to worry about harmful exhaust gases potentially entering your home.
Heat pump water heaters can be excellent options for homeowners who are looking to replace an old, inefficient, or leaking electric unit. These high-efficiency water heaters are easy to use and can help you reduce your electric bills over time.
Call (866) 606-0326
for fast service
We Specialize in High-Efficiency Water Heaters!
If you're ready to get started with your heat pump hybrid water heater, don't wait any longer for an installation. Instead, turn to the professional team at Fast Water Heater today! We offer same-day installations if you call us by noon, and we stand by our price-match guarantee.
Our experts care about your satisfaction and safety, which is why we'll go above and beyond to ensure your electric heat pump water heater is installed correctly and according to building codes. You can count on us for all of your needs, including the following:
Contact us today for more information about our green water heaters! We proudly serve homeowners throughout Washington, California, and Oregon, including those residing in Bothell, Auburn, Gardena, Richmond, Troutdale, Seattle, Portland, and Los Angeles.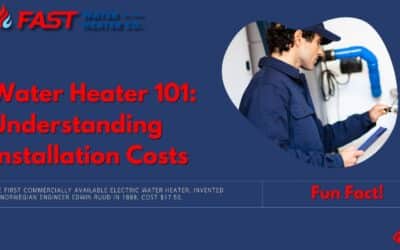 Welcome to Water Heater 101, where we delve into the crucial aspects of water heater installation costs. Whether you're considering an upgrade to a more energy-efficient model or replacing an aging unit, having a comprehensive understanding of the key factors...
read more